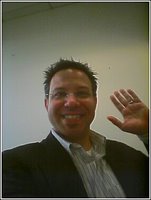 Hola! Como esta usted? Yo? Muy bien, gracis. :-) No, I'm not trying to scare you with my fish head mug shot done with my Sanyo 8300 mobile phone - but this is a picture of me in the office I was squatting at while at Disney. :-D Hi!
The third day in LA metro brought more of the same weather (you'll see in the pics, hang on) and more of the same meetings. The fun part was that I got to visit Hollywood! Not that Hollywood is any great shakes mind you.
Oh, here's the office with the trusty PowerBook.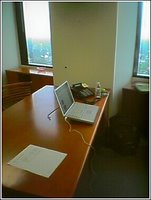 It seems like it is about 200 yards of the Walk of Fame starting at Hollywood and Highland, then the Kodak Theater (which has frontage of about, oh maybe 40 feet?) then Grauman's Chinese theater (Gosh is it small!) I saw all the hand prints and foot prints, read the names. Then we went over to the Roosevelt Hotel. Lunch was nice (thank you Mickey!), I got to see the Hollywood sign and all. The company on the lunch was the most fun - Krista and Paul, you both Rock!
My view from the afore mentioned office.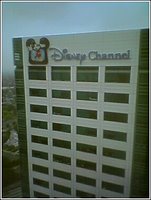 So, again, I ended up at the office late - like 7:00pm. Though not as late as my host who ended up there until 10:30 and then had to be in at E3 at 6:30 the next morning! Owww! The bummer part about this was that I had set up to meet with Ed Melendez of Five Shock design
(http://www.fiveshock.com)
and hopefully do a bit of podcasting with him. He's getting ready to release his own podcast - and let me tell you - it's going to rock! Alas, I was too beat to think about getting back to the hotel, getting changed, getting food then driving out to his place which was about an hour away.
The valley in Burbank. You can't even see the hills...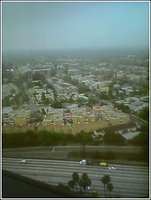 So, instead I went back to the hotel, had the WORST cajun shrimp (the shrimp was waaaaay to fishey!) and watched the results show of Idol. OMG Chris! I was stunned. I would have thought Cathrine (though she is my favorite - and I will learn to spell her name!) because she had a tough night. Still, I thought Chris would be in the final. Yet, as I mentioned before, these guys are all getting albums. Count on it.
OK. That's it for the day. Soon to come, day four of the Burbank Chronicles. See you then!